JTPV 2023 TOPCon Technology Online Launch Conference Concluded Successfully!
---
On September 14th, the JTPV 2023 TOPCon Technology Online Launch Conference was successfully held in Chuzhou, Anhui Province, China. Yixiao Song, the Senior Director of the R&D Center of JTPV, gave a detailed report on how JTPV leads the N-type cell market, the technical efficiency of JTPV's new products, and the prospects of N-type TOPCon technology.
According to Director Song, 2023H1, JTPV has gained a lot of harvests in the field of N-type cells and achieved remarkable results. Based on PV InfoLink's data statistics at the end of August, the global top five N-type TOPCon cell shipments amounted to 10.5GW, while JTPV contributed 6.56GW, occupying 62.48%, making it No.1 in the global N-type shipment. Currently, JTPV has 18GW N-type TOPCon capacity at Chuzhou base and 13GW capacity at Huai'an base respectively, totaling 31GW in operation and is expected to reach 44GW by the end of the year, accounting for 82% of the company's total capacity.
JTPV always insists on technological innovation and pursues efficiency improvement and cost reduction. In terms of technology route, JTPV chose the LPCVD route with higher efficiency; in terms of cost reduction, JTPV is the first enterprise in the industry to comprehensively introduce LP double insertion; in terms of efficiency enhancement, JTPV successively carried out the development of the first and second-generation SE technology, and led the first-generation SE in large-scale mass production, which brought the second-generation SE technology revolution to the industry.
Supported by the above technologies, JTPV will lead the mass production of TOPCon cells into the Voc730mV era. Up to now, JTPV's highest efficiency in the lab has reached 26.2%. The mass production efficiency is expected to exceed 25.8% by the end of 2023, allowing JTPV to continue to lead the industry.
Director Song is optimistic about the prospects of N-type TOPCon. As he argued, TOPCon will remain the mainstream technology in the PV market in the next 3-5 years. Responding to questions from the online audience, Director Song revealed that JTPV is simultaneously developing TBC (TOPCon back contact) solar cell technology, which has entered the stage of experimental to pilot production, and is expected to start production at the end of this year, so as to be well-prepared for the application of the new technology.
In the future, the R&D team of JTPV will continue to forge ahead on the road of technological innovation and write a new chapter of high-quality development in the field of photovoltaic cells.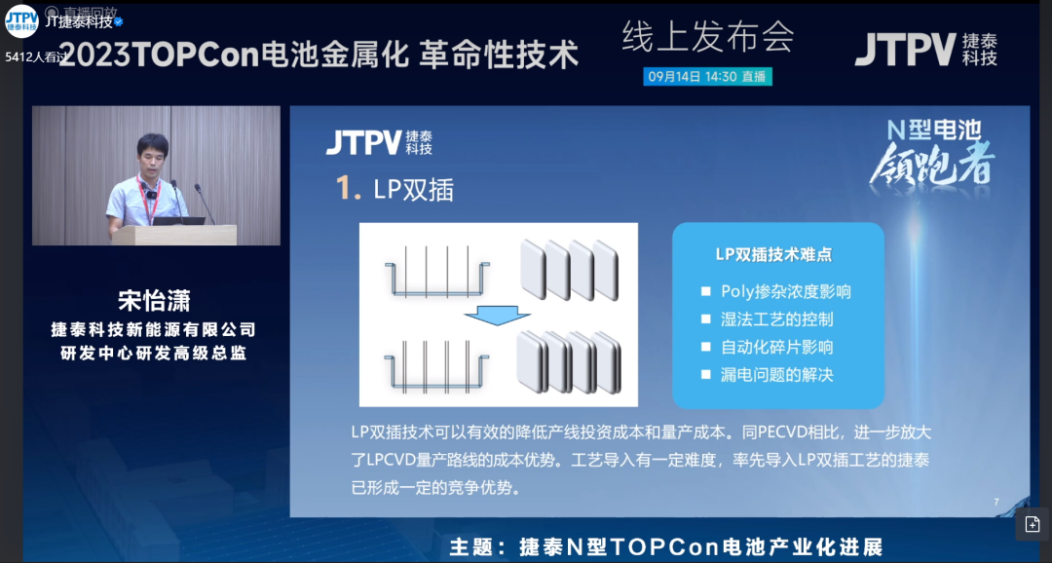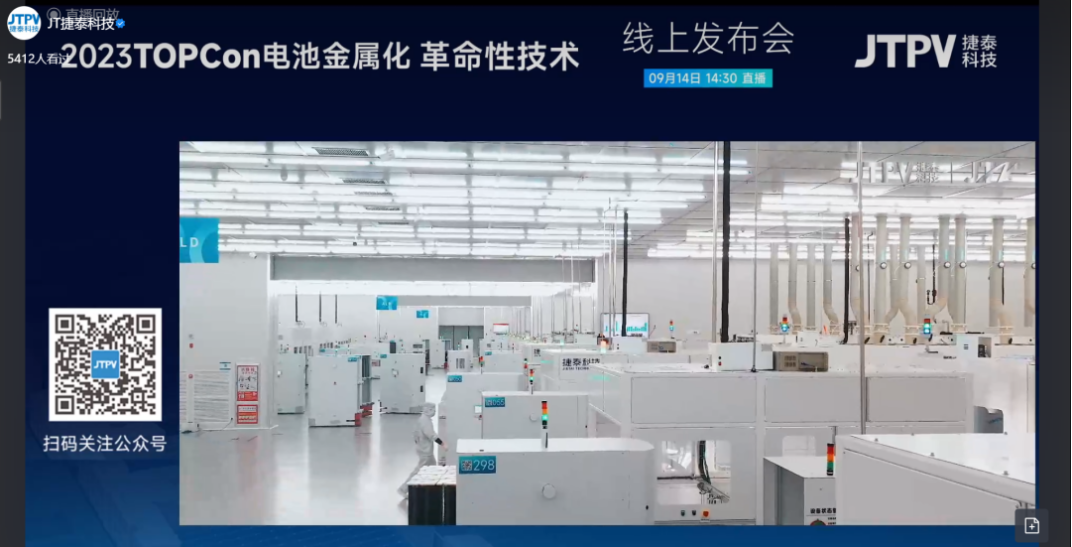 CONTACT
Headquarters: 8 Xingye Avenue, Shangrao Economic and Technological Development Zone, Jiangxi Province
Subscribe +
---